تدريبات شاملة لغة إنجليزية صف سادس فصل ثاني
مرفق لكم تدريبات شاملة لغة إنجليزية صف سادس فصل ثاني يحتوي هذا الملف على اسئلة في مادة اللغة الانجليزية للصف السادس الفصل الدراسي الثاني، مناهج دولة الأمارت .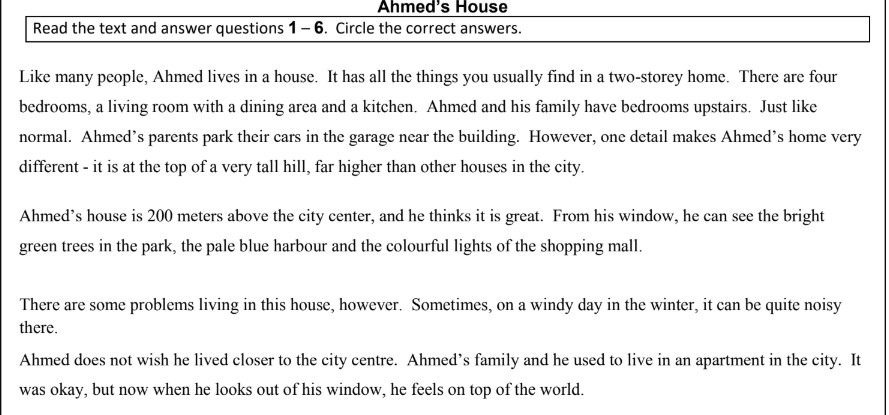 محتويات ملف تدريبات شاملة لغة إنجليزية صف سادس فصل ثاني كالآتي :
حيث يوجد داخل الملف العديد من الاسئلة ومنها :
أقرأ القطعة ثم أجب عن الاسئلة التالية :
: Read the text and answer questions 1 - 6. Circle the correct answers.
Like many people, Ahmed lives in a house. It has all the things you usually find in a two-storey home. There are four bedrooms, a living room with a dining area and a kitchen. Ahmed and his family have bedrooms upstairs. Just like normal. Ahmed's parents park their cars in the garage near the building. However, one detail makes Ahmed's home very different - it is at the top of a very tall hill, far higher than other houses in the city.
Ahmed's house is 200 meters above the city center, and he thinks it is great. From his window, he can see the bright green trees in the park, the pale blue harbour and the colourful lights of the shopping mall.
There are some problems living in this house, however. Sometimes, on a windy day in the winter, it can be quite noisy there.
Ahmed does not wish he lived closer to the city centre. Ahmed's family and he used to live in an apartment in the city. It was okay, but now when he looks out of his window, he feels on top of the world.
...................... Ahmed's house *
a- does not look unusual on the inside
b-has bedrooms on the ground floor
c- is far away from the garage

............................. Ahmed likes his house because it is *
a-bigger than other houses
b-close to the city center
C-in an unusual location
............................ Living in Ahmed's house can be difficult because *
Read the email messages atnut meeting new on the first day of school. For questions 1-8 match the texts (A•C) to the questions. You can use each letter more than once
New Fases and New Names
IAI back in school is okay. I'm happy to be with my friends again. We've been together since Grade , so we are like a family. I usually sit with Ismael, but we have a new student, and the new Islamic teacher wants me to help him. His name is Hasan and his family just moved here to A1 Ain from Sharjah. He's okay, but a little scared and shy. I think I'll invite him to my on Saturday
Ms. Mariam is still our Islamic teacher, but we a new Arabic teacher. Her name is Ms. Asma and she's from Umm A1 Quwain She says that we must not forget our native language and we must always try to write perfectly in Arabic. We also have a new teacher for English. She's called Ms. Megan and she's from Scotland. She called us "lassies" and we thought it was something bad. After she told us that "lass" means girl, we laughed
Today was my first day in an international Jose sits next to me in class. He's from Spain and his family moved to Abu Dhabi in August. His English is very Hans is also new, but I don't know anything him because he didn't speak. I think he's from Germany. Haru is from Japan but he speaks English. He made a lxw to greet the teacher, and everyone laughed. Mr. Mostafa was so happy. He said fill marks for Haru
I. Who is a student in a new
2. Who has two teachers
. Who met someone who didn't say anything all day
. Who wants to invite the they met home at the weekend
5. Who learned a new English word
. Who has the same Islamic teacher as last year
7. Who is close to everyone in class
. Who was æsked to help a new student
you are smart and amazing
Read the texts. Match the texts (A -C) to the sentences ( 1 -5).. You can use each letter more than
A — Salem Last year. I went on a rollercoaster for the first time. I was scared. but I decided to try it. It was exciting and terrifying at the same time! I closed my eyes and tried to scream. When it was finished, I felt a sense of pride because I had done something brave. I haven't been on a rollercoaster since! I would really love to do it again sometime Soon
B — Ahmad I felt really Of myself when I first learned to swim! I remember that feeling Of excitement very well. I felt very satisfied because I had achieved something! I was six years Old and I had a fear Of water But when I learned how to swim I wasn 't afraid of it any more. Since then, I have never been afraid Of water again. I have even become a member of the local swimnung club
C — Zainab I was always scared Of heights! But One day my parents said we were going to visit the Burj Khalifa. At first I didn't want to hear about it. How could I visit the tallest building in the world and not just scream? But at the same time I didn't want to miss Out the fun my brothers and sisters would have. so. I decided to join them! It was amazing! I really loved it! I wasn't scared after all md maybe everything was just in my head
I -Who has joined a club after higher achievement
. Who felt proud because they were brave
. Who dich't want to miss 'Ait the fun
. Who was six years old at the time of the achievement
. Who visited the tallest building in the world
. Who did something for the first time last year
. Who was always afraid of heights


مواصفات ملف تدريبات شاملة لغة إنجليزية صف سادس فصل ثاني كالتالي :
نوع الملف : تدربيات

الصف : السادس

المادة : اللغة الانجليزية

عدد الصفحات: 20 صفحة

صيغة الملف : pdf بي دي اف
صفحة سراج المناهج الاماراتية على الفيسبوك ( تابعنا )
قناة سراج المناهج الاماراتية على التليجرام ( تابعنا )